Considering that one of the main challenges facing Idaho National Laboratory is attending to the "talent pipeline" – attracting talented younger people to pursue careers at the U.S. Department of Energy facility – the value of a strategic and engaging summer intern program is obvious.
This summer, nearly 350 students came to INL to do everything from cybersecurity to rare earth extraction to building a process control loop out of junked spare parts. In all, students from 94 universities around the United States and overseas participated as interns.
"The quality of projects is exciting to the students and more employees are wanting to be mentors in broader areas of our laboratory," said Michelle Thiel Bingham, INL University Partnerships manager.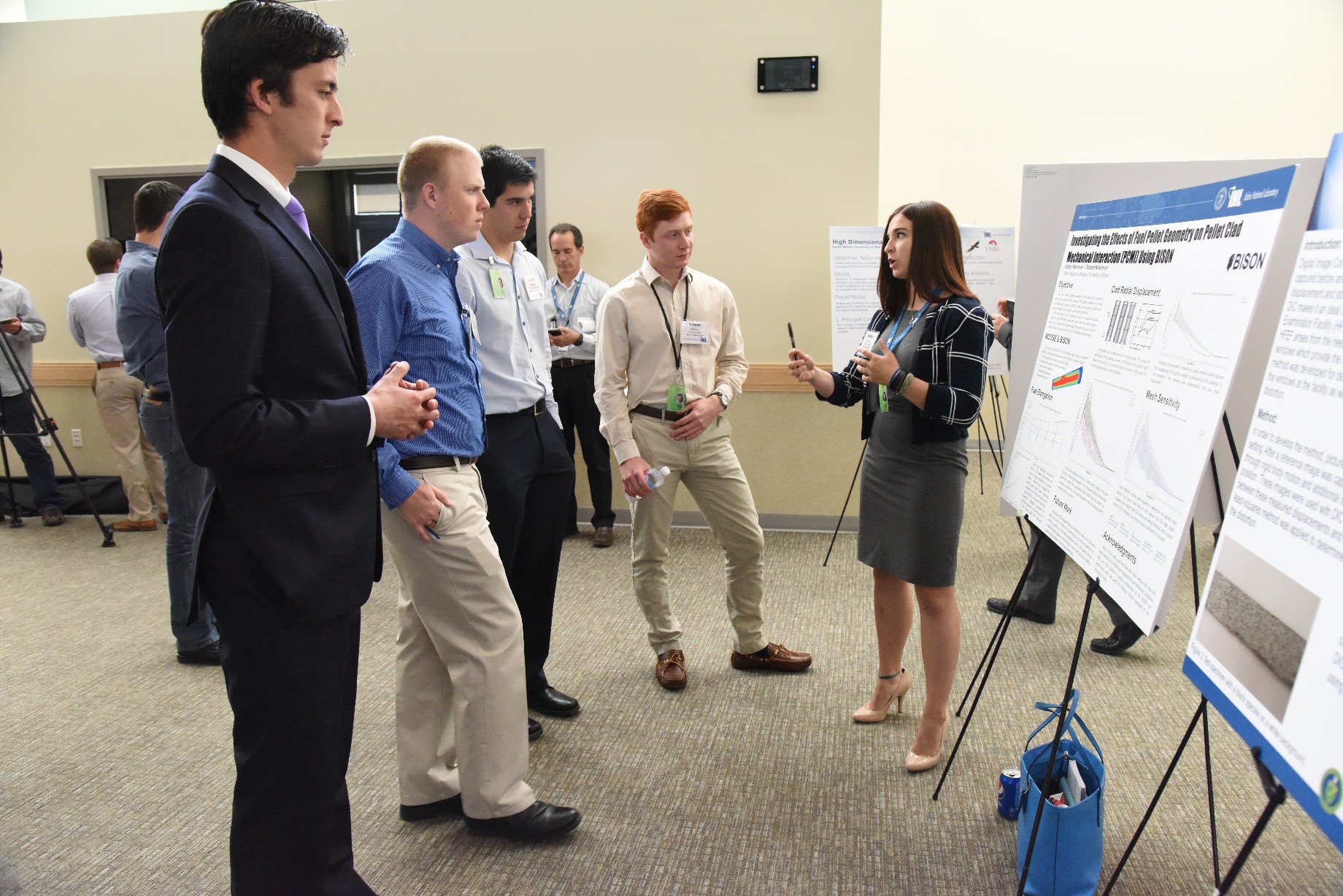 The annual Intern Expo and Poster Session Aug. 11 at the Energy Innovation Laboratory building had about 100 displays, a dozen more than 2015. "The students not only participate in developing a technical poster but they showcase their project by developing models, digital and visuals tools, and delivering their projects in oral presentations," Bingham said.
From the lab's perspective, it isn't just about attracting and developing future talent but spreading awareness of what INL has to offer. "That could result in more collaboration with industry, academia and other partners," Bingham said.
From a researcher's point of view, interns offer some key advantages, said Tedd Lister, an INL group lead specializing in electrochemistry. He has had summer interns for three years straight. "Having a fresh perspective allows you to think about the research you're doing," he said. "You can do things you normally wouldn't do on projects."
Lister mentored two interns this summer. "Both of these guys are high level," he said. "Both had a great summer. They got to do a lot of work in the laboratory, and got to see a lot of the West."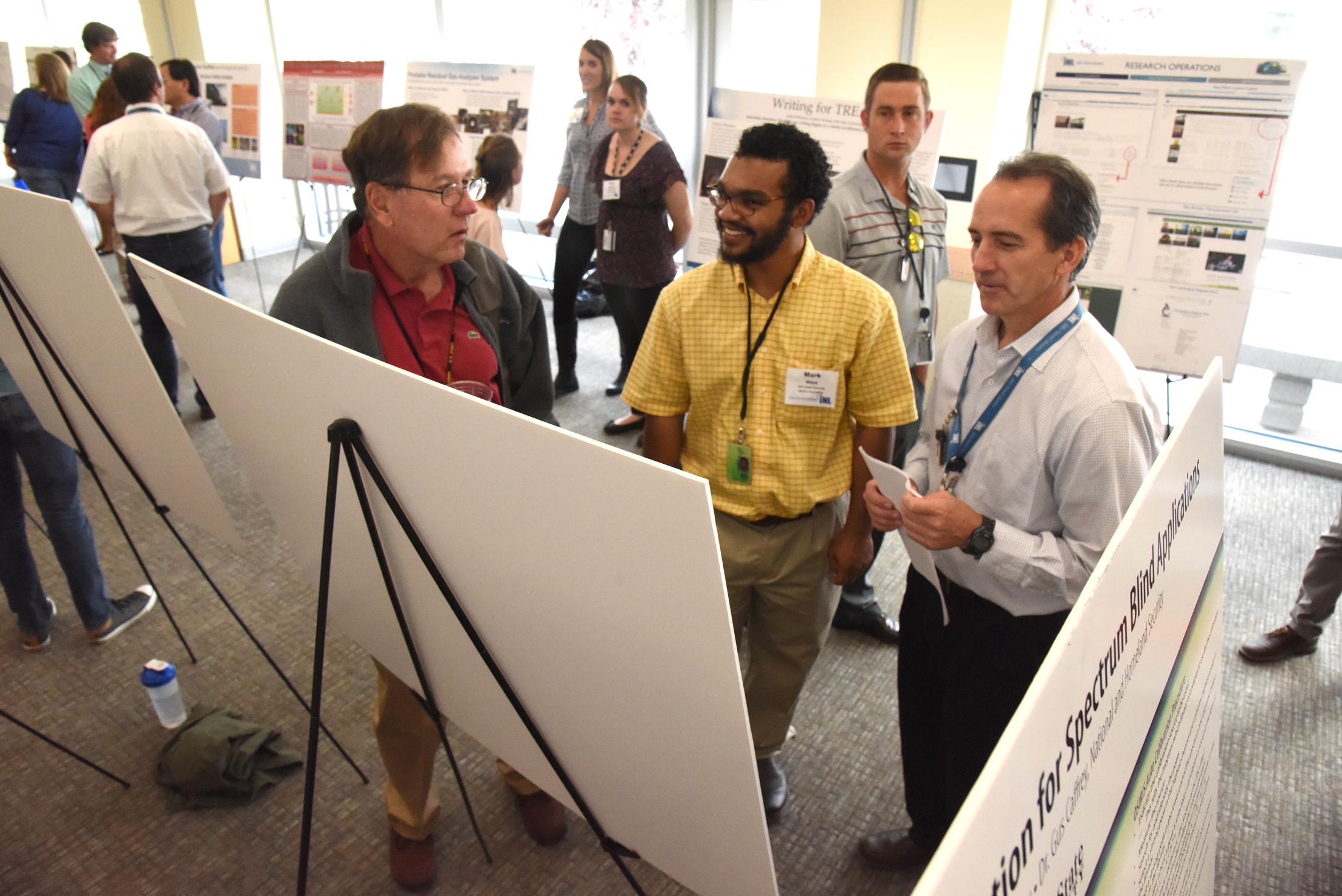 One of them, Mitchell Juneau, an undergrad from the University of New Hampshire, focused his attention on the topic of his poster, "Demonstration of Strategic Materials Recovery from Redundant Electronic Devices." Juneau worked on developing an electrochemical cell to extract gold and silver from smartphones. For the economy and the environment, it could be important work, he said. "There are 1.4 billion cellphones," he said. "Even if the gold is on .03 percent, that's significant."
The biggest project on display at the expo came from Jed Otto, Jacob Ivie and Brandon Wavra, all electrical engineering undergraduates in Idaho State University's Energy Systems Technology & Education Center (ESTEC) program. Their mentor, David Almgren, gave them a pile of metal, tubing, tanks and instrumentation and told them to make a process control loop.
"Our budget was zero," said Wavra. Yet they were encouraged to use surplus or excessed parts and equipment and were able to construct a system that circulates water, and is capable of monitoring pressure, level, flow and temperature. "We were excited to see what we could do with all these parts," Ivie said.
They ended up with an instrument 7 feet long, mounted on a rack with casters. The work did not go unnoticed. "We had the guidance of well-seasoned technicians," Otto said.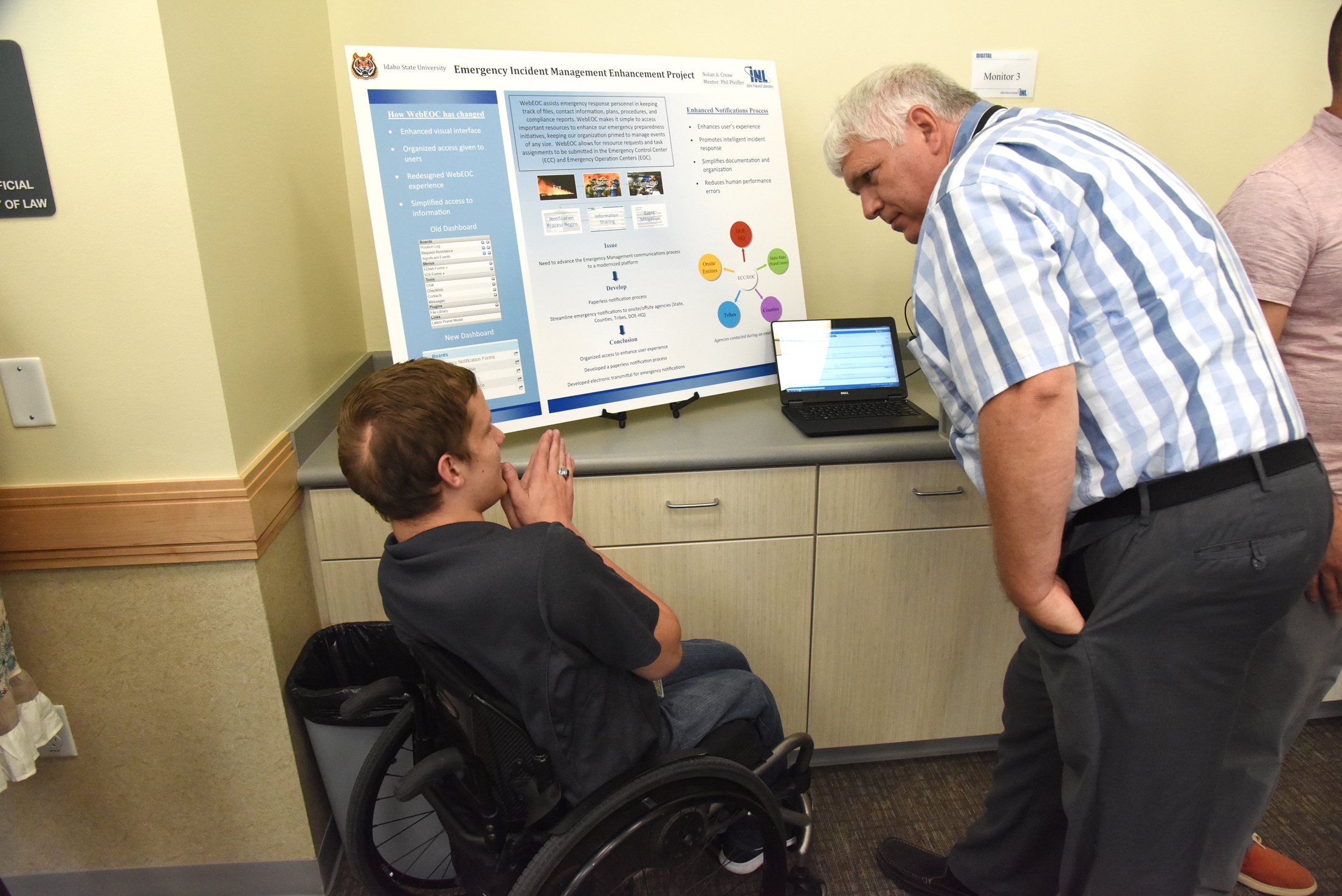 For Alex Schoonen, a chemical engineering student entering his senior year at Montana State University, an INL internship represented a great opportunity to get career experience. He ended up assigned to Eric Dufek, INL's energy storage group lead, writing VBA (Visual Basic for Applications) macros in Microsoft Excel on battery life, health and safety.
"I didn't know anything about lithium-ion batteries," he said. "I've got a much better idea of why they're important and why it's important to make them better."
Montana State University student, Annie Van Voast, also landed an INL internship for the summer. An English/education major with plans to teach, she wondered what a national laboratory might have for her, but found herself working with Tomm Larson, INL's cybersecurity awareness lead. Van Voast wrote 24 blog posts that will run in the coming year in conjunction with Larson's presentations, for which she also wrote the lesson plans.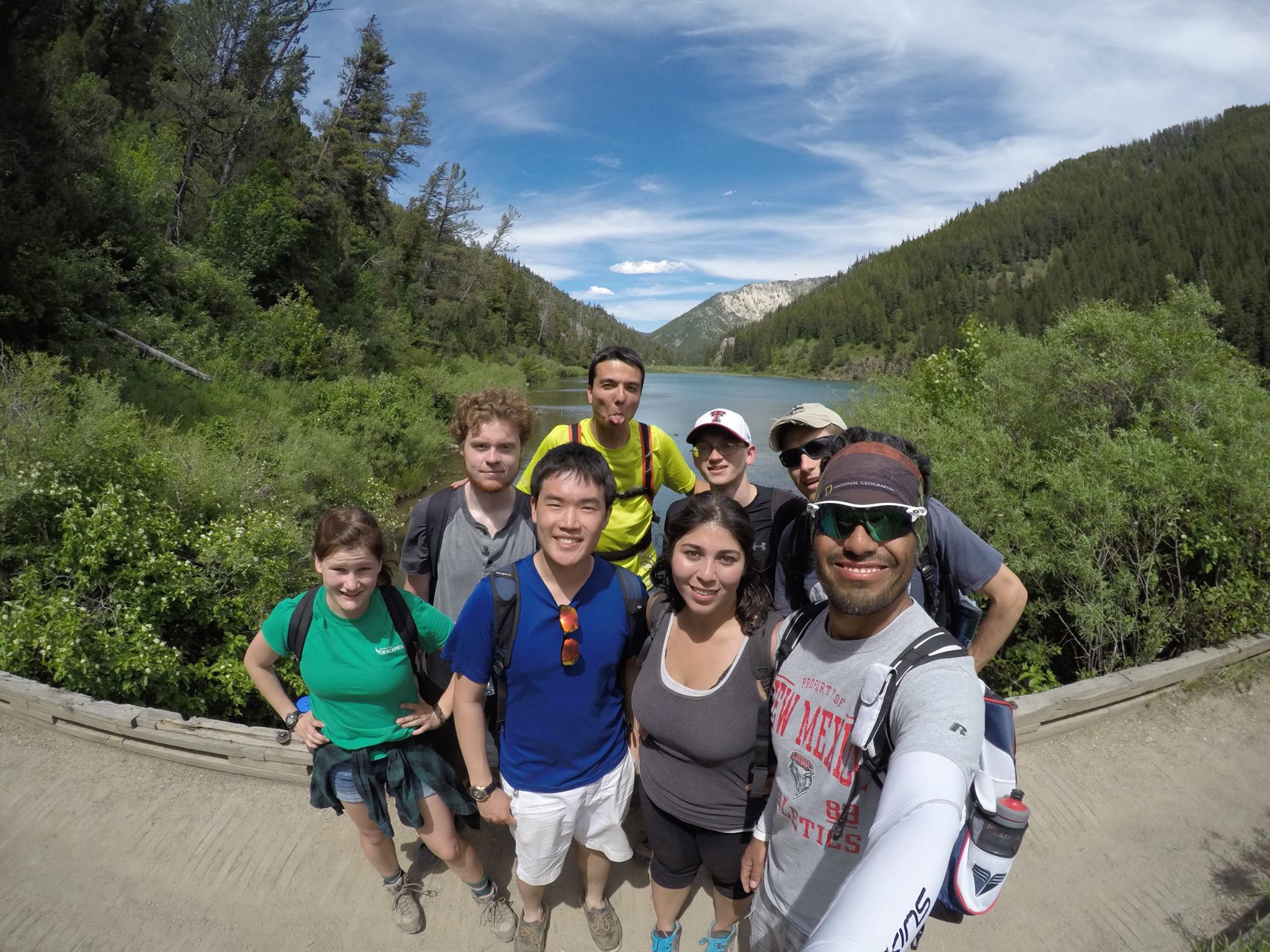 "She's been very, very effective – a very hard worker," Larson said. "I wanted a younger perspective, and learned a lot from her."
As for Van Voast, she still plans to teach after she graduates but has a broader view of her opportunities. "I learned there are lots of other things I can do as an English major," she said.
In addition to career perspective, the summer intern program offers opportunities to form new friendships and embark on adventures, taking full advantage of the hiking, fishing and mountain biking opportunities in the region.
"Not only did INL see great benefit from hosting students from across the country, our community took notice as well. More people from the area wanted to offer housing, and many said they enjoyed the energy the students brought to downtown events and local giving programs and volunteer opportunities," said Amy Lientz, director of INL Partnerships, Engagement and Technology Deployment.  She also said that many community leaders can't wait until next year when the students come back and they hope the lab hosts more.
---
Special honors were given in the following categories:
Poster Category: World Nuclear Energy Future
Winner: Miranda Wachs, Skyline High School; 1st runner-up: Ethan Nickerson, Utah State University
Poster Category: Enabling Clean Energy Development
Winners (tie): Nathan Wood, University of Michigan and Kyler Egan, Ririe High School; 1st runner-up: Lucia Mallozzi, Suffolk Community College Ammerman Campus
Poster Category: Securing and Modernizing Critical Infrastructure
Winner: Sean Salinas, New Mexico Institute of Mining and Technology; 1st runner-up: Karen Kursteiner, California State University.
Poster Category: Enabling INL Business and Support Operations
Winner: Rajiv Khadka, University of Wyoming; 1st runner-up: Sara Palmerton, University of Michigan
Category: Best Digital/Graphics
Winner: Monica Gehrig, Missouri University of Science and Technology; 1st-runner up: Sarah Stevenson, Kansas State University
Category: Best Technical Presentation
Winner: Danielle Barna, Colorado School of Mines; 1st-runner up: John Michael Bradley, BYU-Idaho
Intern Mentor of the Year:
Dr. Mitchell Plummer. This honor is given to a mentor who receives the highest standing from a student poll.