When Kyle Schroeder began his nuclear engineering degree at Idaho State University, he relied on his personal computer to run complex simulations required for his job as a research assistant.
Specifically, Schroeder was trying to model how fluid might flow through a new type of heat exchanger – a discovery that could someday make nuclear reactors more efficient.
"I have a pretty robust personal computer, and it would take 12 to 20 hours," said Schroeder, who is working toward his master's degree. "On the supercomputers, I can run something in less than an hour."
The supercomputers, part of Idaho National Laboratory's High Performance Computing resources, are connected to Idaho's universities via the high-speed Idaho Regional Optical Network, which connects higher education, health care, government and not-for-profit organizations throughout Idaho.
This computing infrastructure allows students and faculty access to the computing resources necessary to perform modern scientific research and engineering.
A supercomputer is vital
For Schroeder, who might run 100 such simulations each month, access to a supercomputer is vital. "Doing that many simulations is not possible unless you have a supercomputer like this," he said.
Now, INL is preparing to transfer use of one of its computers, Falcon, to Idaho's three universities permanently. The change comes after the 2019 installation of the new Sawtooth supercomputer, funded by the Office of Nuclear Energy under the Nuclear Science User Facilities (NSUF), alongside Falcon at the Collaborative Computing Center (C3) located in Idaho Falls, a building funded to grow and expand the partnership between INL and Idaho universities.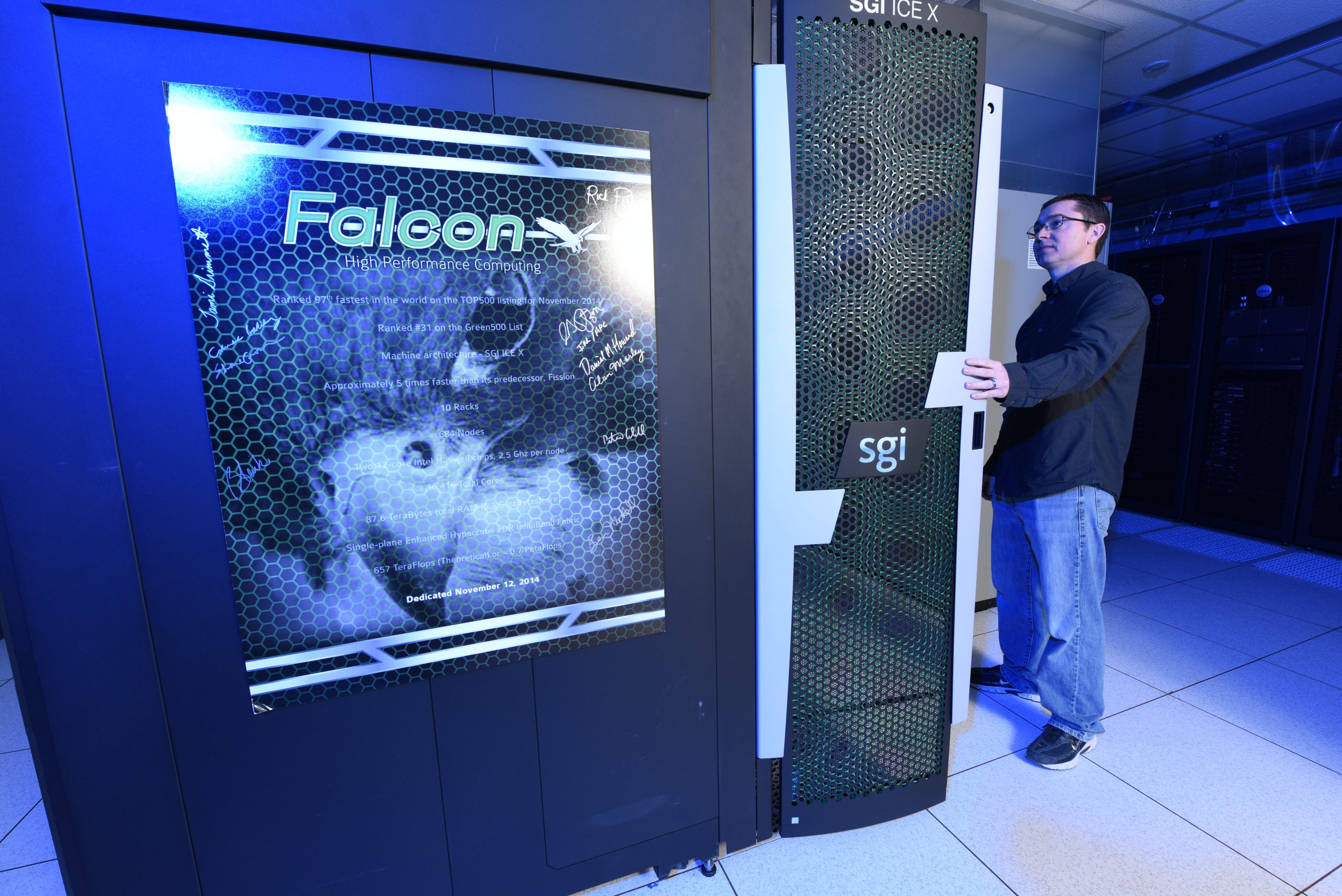 While Falcon will remain housed at C3, the machine will be dedicated to Idaho university students and faculty and operated through the Center for Advanced Energy Studies (CAES), a research, education and innovation partnership between INL, Boise State University, Idaho State University and the University of Idaho. With this transfer, Idaho university students and faculty will no longer need to compete for computer time with researchers from the national laboratories.
"Falcon would likely rank in the top 25 fastest academic computers in the country," said Eric Whiting, director of the Idaho National Laboratory Advanced Scientific Computing Division, the group that manages INL's high-performance computing resources.
Falcon was ranked #97 on the list of the fastest supercomputers in the world at time of deployment in 2014. Falcon's best TOP500 benchmark demonstrated 1 petaflop (PFLOP) – a quadrillion calculations – every second. "This system is 35,000 times faster than a desktop with a single processor," he said.
For comparison, Sawtooth operates at 5.8 PFLOPS, while the world's fastest computer, currently Fugaku in Japan, operates at 442 PFLOPS.
Computing power for modeling and simulation
The overwhelming majority of this computing power goes toward modeling and simulation efforts. For example, Idaho university researchers currently use Falcon to model everything from heat exchangers to volcanoes to nanostructures to trout populations.
"Science is like a stool with three legs," Whiting said, "one leg is theory, one leg is experiment, and the third leg of that stool is computer modeling and simulation."
"Theory and experiments provide amazing insights, but have limitations," Whiting continued. "If you're building an airplane, and you want to know if it will fly under a myriad of different conditions, you can either build a prototype and try to recreate all possible scenarios, or utilize modeling and simulation to better understand system performance under any condition. It lets you do things that might be impossible in the real world."
For Schroeder, that means running simulations on how a fluid might flow in a new heat exchanger design. In a nuclear power plant, a heat exchanger is a system of coils filled with a special fluid that moves heat from the reactor core to a boiler where water is turned into steam to generate electricity.
Schroeder is helping professor Amir Ali test whether twisting the coils into a DNA-like helix can help the heat transfer fluid move faster, and therefore more efficiently.
For students like Schroeder, experience running these types of simulations on Falcon is extremely valuable.
"More and more, in industry, simulation is the name of the game," said Schroeder, who spent several years working for a materials science company before deciding on a career in nuclear research. "We would pay other companies thousands of dollars to do simulations because they are so valuable. I'm on INL's supercomputers every day. Being able to do that myself is great."
An investment in the future
And for INL, the benefit is twofold. First, many students and faculty using Falcon for modeling and simulation are part of collaborations with INL researchers.
Second, it's an investment in INL's future. "We're building statewide expertise," Whiting said. "It's training a workforce. A lot of INL's employees come from Idaho schools. And it's not just INL. Even if they don't work for us, having that expertise will help them get jobs."
This investment is not the only one INL has made with Idaho universities. From internships to joint research projects, faculty and students from Idaho universities have been key to INL's success.
Falcon was purchased by the lab in 2014 and later upgraded in 2017. After the transfer of use, University of Idaho will manage the machine.
Even though the machine will remain at C3, the universities plan to make some modifications to Falcon, like clearing all information from the system. "When it wakes up for university use, it is like a new computer is born," Whiting said.