F&SS interns score top honors at Project Showcase
A pair of high school graduates combined their brains, talents and skills to earn top honors at the annual INL Intern Final Project Showcase, where university graduate students, undergrads and high school interns display results of their summer research projects.
Ryan Myers and Cole Mortensen took full advantage of the chance to work in INL's Fleet Services at the Willow Creek Building in town and at the Big Shop maintenance facilities on the desert Site this summer. They earned first place honors for best technical presentation and best overall project.
Under the guidance of mentors, they became acquainted with the challenges of operating the largest bus and light vehicle fleet in the Department of Energy complex. Then, they took the initiative to demonstrate how INL and other DOE fleet services could comply with presidential Executive Order 13693, a carbon footprint reduction plan that requires all new federal government vehicles to include a real-time data collection telematics system by March 2017.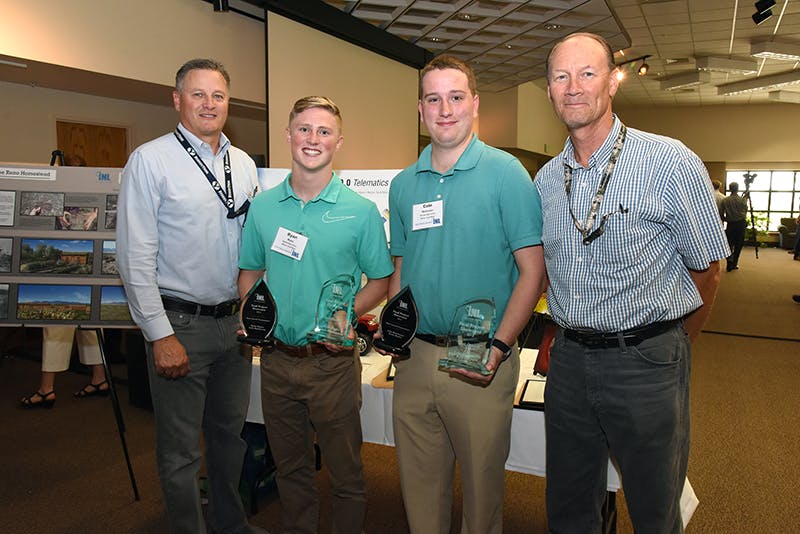 Mentor Tad Pearson, interns Ryan Myers and Cole Mortensen, and teacher Vince Wray of the Education Programs & Interns Program celebrate the success of the interns' project at the Intern Final Project Showcase. (INL Photo, Chris Morgan)
At the August project showcase, interns shared what they learned in their research with peers, mentors and the community. They explained their educational experience through posters, oral and digital presentations. For the first time this year, the INL internship program offered an option for students to use art as a medium to represent their research. Showcase entries included 75 poster submissions, 12 art projects and eight technical presentations.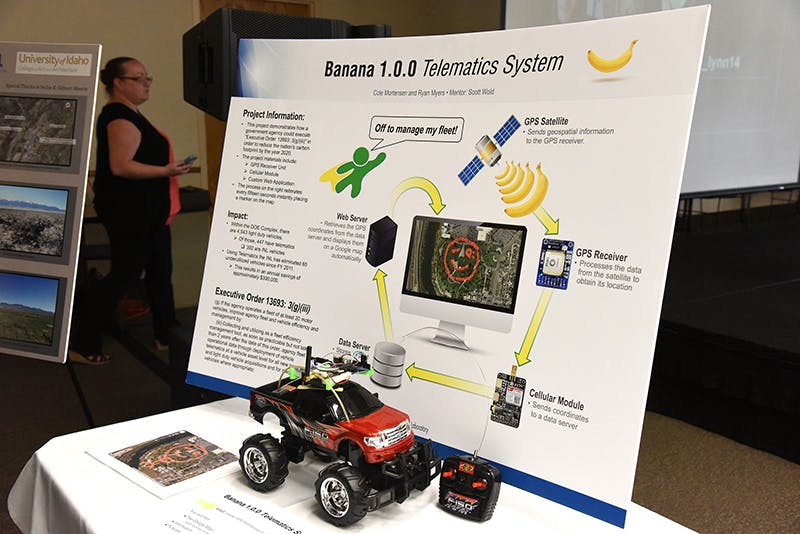 The Banana 1.0.0 Telematics System Poster on display at the INL Intern Project Showcase. (INL Photo,Chris Morgan) Click here for larger version of the poster.
Caryn Wendt, an Idaho State University civil engineering major, won the "best artistic rendition" award for her white-board animation videos that illustrate a decision-making tool to quantify net greenhouse gas sequestration from dairy farms using DAIRIEES, a model being developed at INL. Cole Manring, a North Carolina State University nuclear engineering major, earned the "best poster" award for his project, "Gamma Emission Computed Tomography Using the PGS (packaging glovebox system) in HFEF (Hot Fuel Examination Facility)."
The two local students, who were among the top graduates at their respective high schools – Myers of Skyline, and Mortensen of Hillcrest – had their work cut out for them to compete against other smart high school and university students. They pulled out all stops to demonstrate how their system plots vehicle movement by using a custom website application that houses a Google map linked to their unit.
They used a comprehensive poster – along with the GPS receiver they built and cellular module they modified – to illustrate how GPS tracking can be used as a fleet management efficiency tool. "We wanted to show how easy it is to implement telematics systems on vehicles in the DOE system," Mortensen said.
While the notion of building a telematics tracking system might have seemed easy in theory, even with their previous knowledge of robotics and computer science, they had to educate themselves further with online coursework. Myers learned HTML and CSS to write code for a website they created, and Mortensen studied JavaScript and C++ for the back-end code. They ordered a prepaid cellphone plan, linked to a 2g network, and bought a SIM card. Then, they modified a GPS receiver and cellular module by soldering pieces together onto an Arduino board, which sends GPS coordinates to a computer data server to map the Google coordinates. Finally, they tested and tweaked their system, which tracks vehicle location and speed for ideal fuel mileage and safety. Results were displayed on the "Banana 1.0.0" website they built.
"The hardest parts of the project were to learn the coding to make the necessary connections between the GPS receiver, cellular module and data server so they work and run properly," Myers said.
Although the high school interns were proud of their project results showing how to track bus and vehicle travel using a telematics system, in the showcase, they were competing against scientific and engineering projects from interns who attend universities throughout the country.
"We had high hopes and we felt like we had done a great technical job, and had given all the effort we could," Myers said, but the thought of winning the top award in competition with college students never crossed their minds. So they were excited to learn judges had chosen their work for the best technical presentation award. "When we heard our names announced again for the best overall project, it really hit us by surprise. We feel very honored and fortunate to have won these awards, and that we had the opportunity to participate in the showcase."
INL intern program
Each summer, Idaho National Laboratory hosts students as part of an effort to help train the nation's next generation of scientists and engineers. Involvement in world- class research offers participants experiences in support of their education and career goals. Again this summer, more than 200 students interned in INL programs. Like Myers and Mortensen, interns make real contributions to program goals.
They may publish or co-author papers, and present research at conferences or their institutions. The program provides a pipeline to employment, strengthens collaborations with academia and other DOE laboratories, and creates opportunities for collaborative research. Interns participate in labwide tours to enhance their knowledge of INL, its history and missions.
As one of the Department of Energy's 10 multiprogram national laboratories, INL performs research related to energy, national security, science and the environment.