If you broke Rajiv Khadka's life into chapters, there would be a big one about growing up in Nepal, an unexpected chapter about his doctorate studies at the University of Wyoming, and another about his five-year stint as an intern at Idaho National Laboratory.You'd also include the chapter that was just published – literally.
On June 26, Khadka became a published author when a book called "VR Developer Gems" hit the market.
Khadka didn't write the entire 676-page tome, mind you; he co-wrote a chapter based in part on the knowledge he gained while toiling in the Applied Visualization Laboratory in the Center for Advanced Energy Studies (CAES) and the 3D Interaction and Agents Research Laboratory in Laramie.
The book serves as a reference guide for computer programmers of all skill levels, novice to pro.
Each chapter is written by an expert in the field of virtual reality (VR) and contains tips to help the reader find solutions to problems encountered while working on a project. The title of Khadka's chapter, which he wrote along with UW Professor Amy Banic and research colleague Elliot Hunt, is "Bi-Manual Interaction for Manipulation, Volume Selection, and Travel: Using the leap Motion, Game Controllers and Mobile Devices."
Khadka is set to receive his Ph.D. in computer science at the University of Wyoming this year.
He arrived in Laramie in 2014, not long after coming across Banic's research on Google Scholar. His interest piqued, he emailed Banic, an associate professor in UW's Department of Computer Science and the founder of the university's 3D Interaction and Agents lab.
After several interviews, Khadka decided to make the trek from southern Nepal, where the climate is tropical, to Laramie, which is far from tropical.
"I didn't know where Wyoming was," he said.
It didn't take long for him to experience his first snowstorm.
"It snows for eight or nine months in Wyoming," he said, adding that his parents have yet to visit.
Khadka said interning at CAES has been "a wonderful experience" that has provided unheard-of access to resources and opportunities.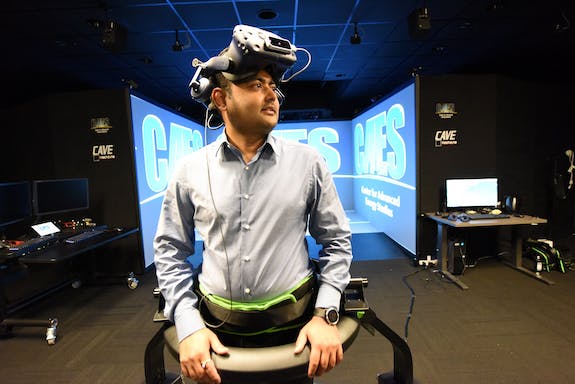 "I've had a lot of exposure to different research that might not have been available at my university," he said. "There is cutting-edge technology here, and it's great to work with real scientists and researchers … I get to understand what they want, what they do. Understanding that helps us design new technology, new tools for them."
Khadka's work as an intern has focused on the CAVE, or Computer-Assisted Virtual Environment, as well as virtual reality, augmented reality and data visualization. This work has allowed INL scientists to visualize their data in new ways, analyzing changes in 3D and real time while enabling remote collaboration.
John Koudelka, who recently took over as lead of the Applied Visualization Laboratory (AVL) at CAES, is working with Khadka for the first time this summer and has "thoroughly enjoyed" the experience.
"His passion for this work is what is remarkable to me," Koudelka said. "He is inspiring to be around."
Among other successful projects, Khadka designed two 3D visualizations for tablets that were a hit with visitors to CAES for the INL Open House in June. One was a virtual model of the reactor core of the Advanced Test Reactor, and another visualization provided a 3D map of the INL campus.
He earned a formal accolade during his 2016 internship, when a presentation on his research won Best Poster at the INL Intern Expo in the category of Enabling INL Business and Support Operations.
His favorite project as an intern was the design of a program that allows researchers in different locations to share their data – in 3D, in real time. His work allows scientists to adjust their data in real time, too, based on results. Scientists working on a project in his program show up as avatars in the screens or virtual environments of their peers. The program works on laptops or even smartphones, allowing access to an immersive virtual environment to those who don't have access to CAVE. This allows scientists working on the same project to visualize their data in different ways, in real time, without traveling.
Being an author has been rewarding, too, he said.
"You always want to have something to contribute to the research community," Khadka said. "I'm really pleased with how it went. I'm really happy."
He's unsure what the next chapter in his life looks like. After receiving his doctorate, he plans to go into the academic or research fields, maybe even at INL.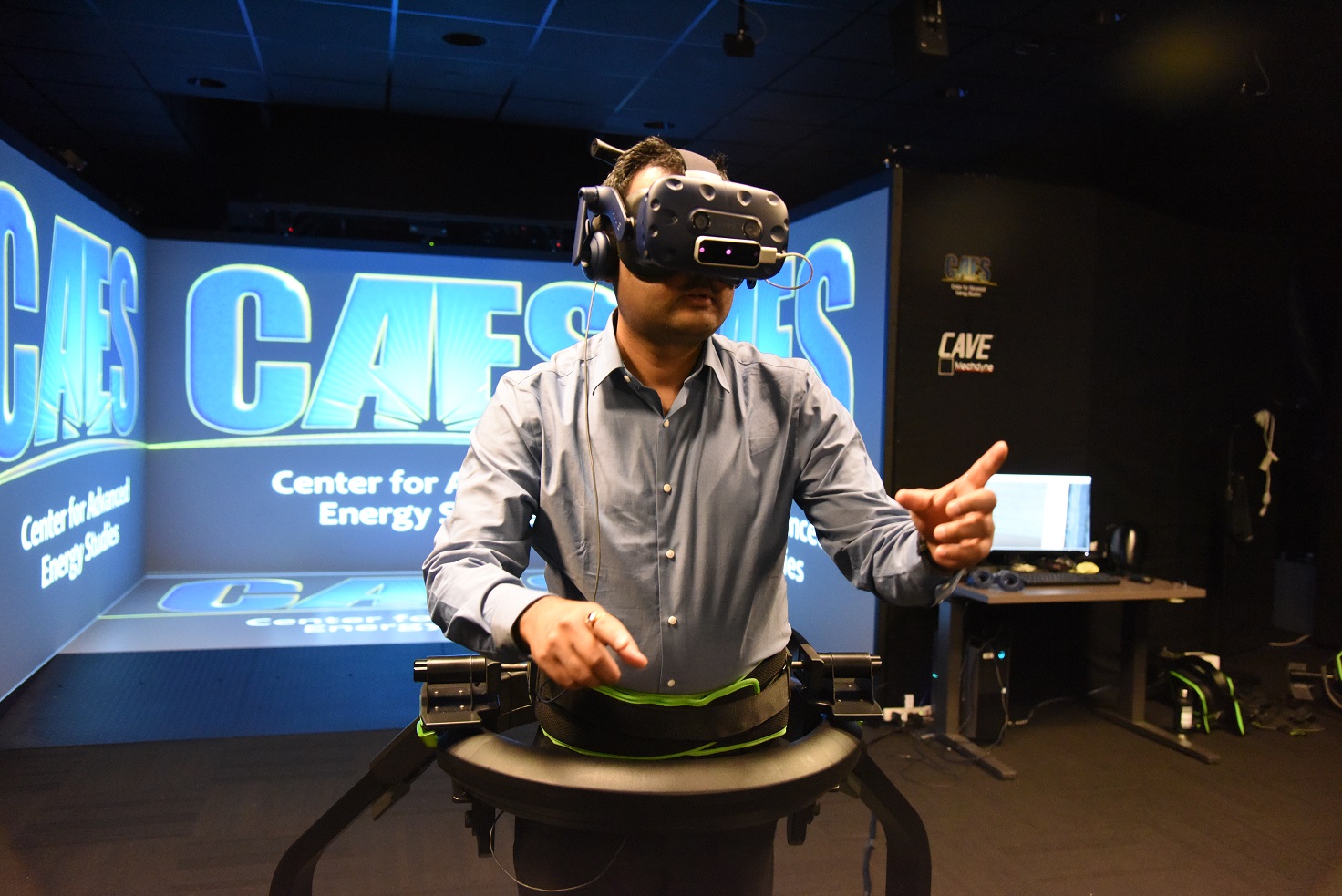 "I'll start looking for jobs this fall," he said. "If something comes up here, I would love to apply and see how it goes."
No matter where he ends up after receiving his Ph.D., Khadka said he plans to focus on projects similar to those on which he has thrived as an INL intern, where he has learned firsthand the power of collaboration.
"My goal for the future is to build tools and interactive technology so I can help researchers and scientists visualize data better and provide them collaboration from my work so they can collaborate with other scientists no matter what type of resources they have," he said.
Koudelka, his current boss, has no doubt that Khadka will succeed professionally.
"Rajiv is a great asset to the research we do in AVL for both CAES and INL, and we hope to see him back here after he finishes his Ph.D.," Koudelka said.