Can America compete? This simple question has had pundits wringing their hands for years as they question the quality of American science, technology, engineering and mathematics education – the STEM disciplines – and ask whether we can continue to be competitive against rising global powerhouses such as China.
This was also a question on Norman Augustine's mind when he recently visited Idaho National Laboratory. By showcasing facilities that support research collaborations with academia and industry, the tour highlighted the role of national laboratories as local, regional and national leaders in creating a more competitive America. Augustine visited as a guest of the University of Wyoming, which is a member of the Center for Advanced Energy Studies— a consortium that includes Idaho's three public research universities and INL.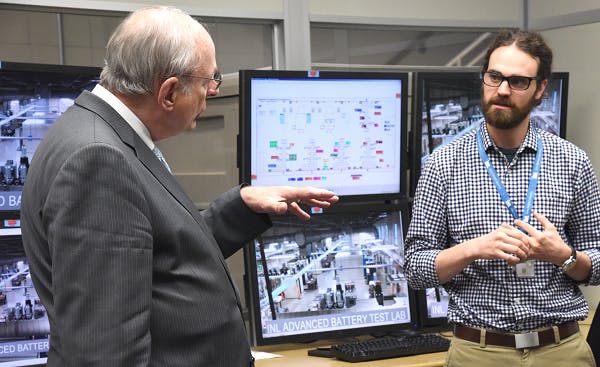 Energy Storage and Transportation researcher Chris Michelbacher talks with Augustine in INL's Advanced Battery Test Lab.
Augustine's impressive career has spanned both corporate leadership and national service roles. The former chairman and CEO of Lockheed Martin is also the former undersecretary of the Army, has served as chairman of the Aerospace Industries Association, chairman of the Defense Science Board, and chairman of the Review of United States Human Space Flight Plans Committee. He sat for 16 years on the President's Council of Advisors on Science and Technology, is the former president of the American Institute of Aeronautics and Astronautics, and is a former member of the Board of Trustees at Princeton, MIT and Johns Hopkins and is currently a Regent of the 12-institution University System of Maryland.
In a presentation to INL employees, Augustine repeatedly emphasized the importance of research as an economic engine, noting that up to 85 percent of the growth in our nation's gross domestic product over the past half-century is attributable to advancements in science and technology. At the same time, though, he laid bare the breadth of the challenges America faces in its quest to continue producing world-class researchers. He noted that for every 3,000 middle schoolers today, only one will become a Ph.D.-holding research engineer 15 years from now.
"That's the leakage in the pipeline," he said, and a major reason why America is now in 79th place worldwide and falling in terms of the fraction of baccalaureate degrees – let alone advanced degrees – awarded in science and engineering.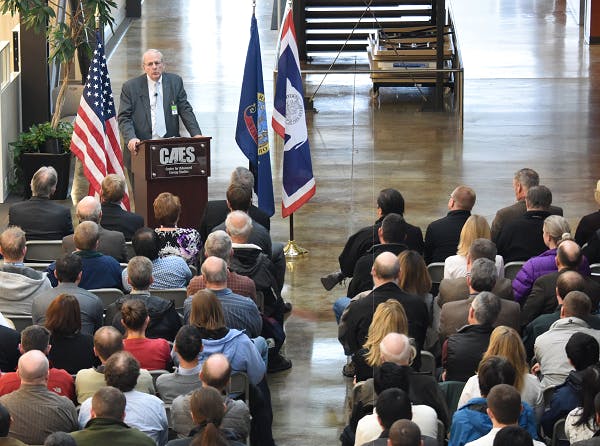 In a presentation for INL and CAES employees, Augustine discussed how science and technology drive American competition.
Among the factors that contribute to our nation's lackluster ability to create scientists, he said, is our collective apathy toward teachers who might spark a love of science in their students; consider his lament regarding teacher salaries in which he noted that it takes an average high school teacher 43 hours to earn $1,000 – an amount that the average corporate CEO pockets each day before lunch or a star athlete collects by breakfast. Or that within 80 percent of the states, the highest-paid public employee is a football or basketball coach.
Not helping matters is that our academic school year is markedly shorter than that of many other countries. Augustine noted that over the course of 12 years of education, a Chinese student will have had "the equivalent of about three years of additional learning by the time [the student] graduates high school." And yet, he continued, "One of the quickest ways to get voted off the school board is to propose lengthening the school year."
If the list of liabilities he identified was long, the list of assets was, at least, strong. "By most foreign ratings," Augustine said, "the United States comes out with all five of the top universities in the world." But, he cautioned "we can't rely on that forever if we don't continue to invest."
Such investments get to the heart of the solution as Augustine sees it. "The challenge is going to be very difficult for us, but there are answers," he reassured his audience, to be found in such things as changing our national priorities and investing more in research and higher education. This could be done, he noted, with very little impact on the federal budget.
Tying up the theme of his presentation about education as an economic driver, he shared an anecdote from congressional testimony he has given that referred to his years spent as an aeronautical engineer: "In my career, I worked on a number of airplanes that in their development phase were too heavy to fly. Never once did we solve the problem by taking off the engines."
---
The full video of Augustine's presentation is available via INL's YouTube channel here.
Read coverage by The Wall Street Journal about a new study analyzing U.S. R&D spending here.