Not all long-distance relationships are doomed to fail. For proof, look no further than the University of Idaho American Nuclear Society chapter.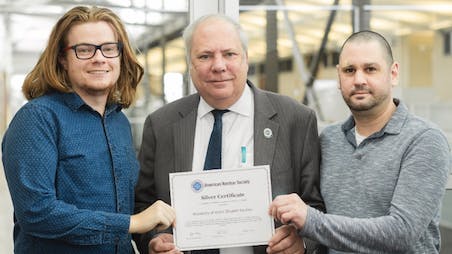 The UIANS chapter has received a second-place Samuel J. Glasstone Award for public service and its efforts to advance nuclear engineering. The award is given each year by the American Nuclear Society to recognize and reward an outstanding student section.
It's a significant honor for UIANS, a small chapter that boasts 20 to 30 members between UI's Moscow and Idaho Falls campuses. Not only are the campuses more than 500 miles apart and in different time zones, their student populations are very different.
UIANS members at the Moscow campus tend to be undergraduate students who take courses during the day. Their Idaho Falls counterparts are generally graduate students enrolled primarily in night classes.
Despite these differences and its small membership, UIANS had a big impact in 2018, the year for which it was honored.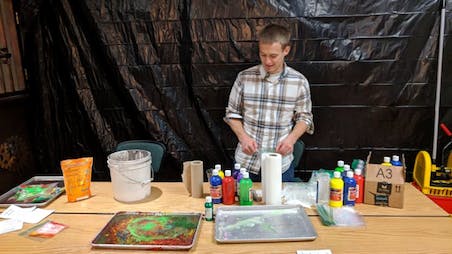 "Usually the bigger sections, they have a large student body in their ANS student sections. They have a lot of manpower in their group, so they have a lot of impact," said Robin Roper, president of UIANS and an affiliate of the Center for Advanced Energy Studies (CAES), a research consortium that includes UI and INL. "But we were able to get it done with a smaller group, which is why I think we got the award."
Like Roper, many of the UIANS members in Idaho Falls are affiliated with the Center for Advanced Energy Studies, a collaboration between INL, Idaho's three public research universities, and University of Wyoming. In summer 2018, 75% of the Idaho Falls student ANS section interned at INL, one-third of UI graduate students worked on research projects funded by INL, and most sat in the CAES building adjacent to INL.
During 2018, the club organized and participated in more than a dozen outreach events, including a "Night at the Museum" at the Museum of Idaho in Idaho Falls. Nearly 300 children conducted experiments as part of the event with the help of graduate students and employees from Idaho National Laboratory.
Members of the student ANS section worked together closely to make their outreach count. At the start of the 2018 school year, members from Idaho Falls traveled to Moscow to plan for the year. As they held community events in north and southeast Idaho throughout the year, several UIANS members helped write a report for ANS that won the section its award.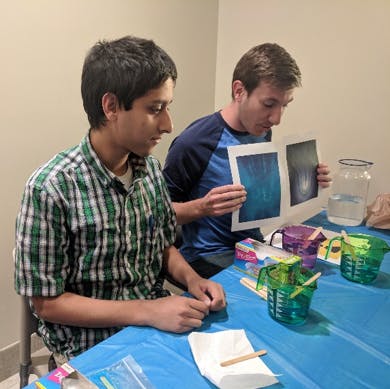 "The time zone difference and the other hurdles didn't do us any favors," said James Richards, former president of the Idaho Student ANS Section and a graduate fellow at INL. "It kept things interesting, but we made it work."
UIANS works closely with the Idaho chapter of the American Nuclear Society, located in Idaho Falls and near INL, the nation's nuclear energy research laboratory. UIANS members routinely support events put on by the Idaho ANS chapter and vice versa, collaborating with employees at CAES and INL.
CAES Director Noël Bakhtian said the center serves an inspiring role by supporting emerging nuclear engineers and researchers.
"We're proud of these students and the work they do here at CAES," she said. "The new CAES vision is to leverage our collective capabilities — the world-class resources at INL and the brilliant faculty and students at the universities — to empower and educate the next generation of scientists in order to accelerate energy solutions."
In 2018, the UIANS Section celebrated its 25th anniversary with a ceremony and a speech from John Kelly, president of ANS. Roper, the current UIANS president, plans to keep focusing on community outreach in the years to come.
"We'd like to continue supporting students and our community," she said.