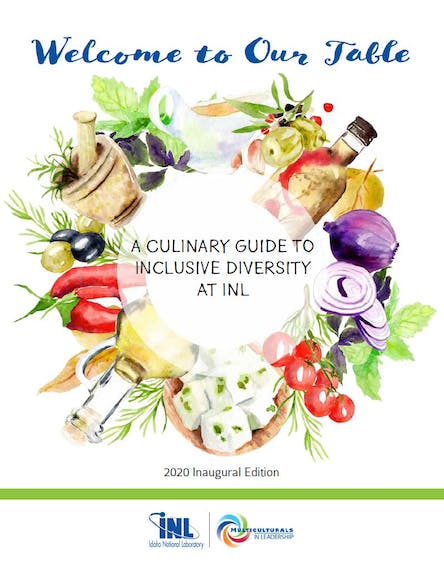 We invite you to browse through Welcome to Our Table, a multicultural cookbook celebrating inclusive diversity at Idaho National Laboratory. This first-of-its-kind cookbook assembles recipes collected from INL employees representing a wide variety of cultural backgrounds. It celebrates the diversity of people and foods from throughout the world that have made their way to our laboratory. Inside you will find recipes from many countries and cultures, including some that were (until now) closely guarded family secrets. They represent our unique experiences being shared with one another.
"Idaho National Laboratory staff members come from across the world. This incredible diversity improves our work and enriches our lives. Please enjoy these culinary contributions, and know we are grateful to all those who are here to help us achieve our goal of leaving future generations a world that is safer, cleaner, and more prosperous." — Mark Peters, Ph.D.
We encourage everyone to sample the recipes contained within. Give unfamiliar recipes a try, both to enrich your table and to better understand the diversity of cultures that make up our INL community and the wider world.
A PDF copy of the cookbook is available here.
A preview at what's inside-
Korean Cucumber Salad
Submitted by Michelle Thiel Bingham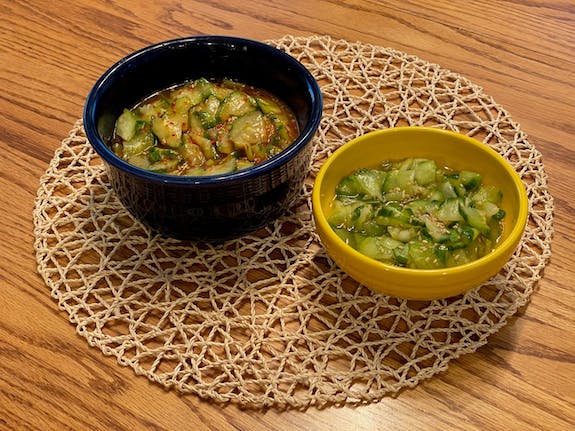 An easy, refreshing salad that was my mother's contributions to many expanded family dinners. I like to add Korean red chili pepper flakes (gochugara) to my cucumber salad and usually pick up a bag when I am in a larger city that has an Asian market.
Ingredients:
2 English cucumbers, washed and cut in quarters the long way. Then thinly slice.
1 tbsp Korean red chili pepper flakes (optional)
1 tbsp chopped green onions
1/2 tsp minced fresh garlic
1 tsp white vinegar
1 tsp rice vinegar
1/2 tsp sugar
black pepper
1 tsp roasted sesame seeds
1 tsp sesame oil
Directions:
Once the cucumbers are sliced, place in a bowl and sprinkle with salt. Let this sit for several hours. Squeeze cucumbers to drain off excess water. This will also help make the cucumbers a little chewy, which adds to the flavor.
Then add the rest of the ingredients and adjust proportions as necessary… because honestly I am truly guessing on the measurements. I learned how to cook from my mother, so I just add ingredients and adjust based on how it tastes.
Serbian Sarma
Submitted by Adrienne Petrovic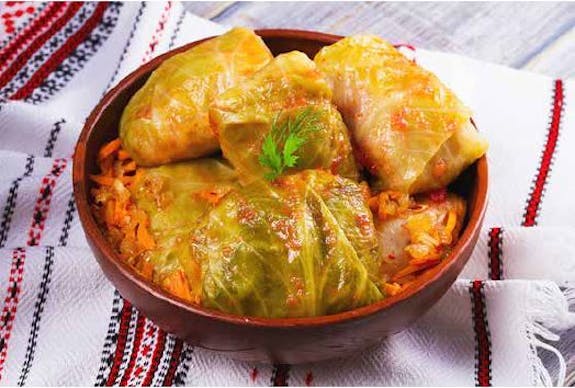 Note: This recipe can also be made vegan/vegetarian. The substitutes are noted below.
Ingredients:
1 (3 to 4-lb) large head cabbage
1 lb ground chuck (substitute with vegan ground meat)
1 lb ground pork (substitute with vegan ground meat)
1 cup raw rice, rinsed
1 (1.4-ounce) package dehydrated onion soup mix
1 32-ounce jar sauerkraut (rinsed and drained)
6 smoked ribs (or ham hock or other smoked meat) (substitute with vegan sausage or omit)
1 (8-oz) can tomato sauce
1 (10 3-oz) can tomato soup
Steps to Make It
Note: While there are multiple steps to this recipe, this stuffed cabbage dish is broken down into workable categories to help you better plan for preparation and baking.
Prepare the Cabbage:
Gather the ingredients.
Steam cabbage until outer leaves are limp, and then remove leaves.
With a paring knife, remove tough ribs from leaves without damaging them. Reserve tougher outer leaves, but don't use for rolling.
Make the Filling:
In a medium bowl, mix together ground chuck, ground pork, rice, and onion soup mix.
Adding a little water will make the mixture easier to handle.
Assemble the Rolls:
Heap 2 tablespoons of filling on each cabbage leaf.
Fold the bottom of the cabbage leaf up over meat.
Fold sides to the center and roll away from yourself to encase completely.
Repeat until meat filling is gone.
Prepare the Cabbage:
Heat oven to 350° F.
Discard the cabbage core and coarsely chop any remaining cabbage except the tough outer leaves you reserved.
Spread chopped cabbage on the bottom of a large casserole dish or Dutch oven. Add the sauerkraut.
Layer on the cabbage rolls, seam side down.
Cut the smoked ribs into pieces if using them. Otherwise, space the smoked meat of choice between the cabbage rolls.
Cover rolls with reserved tough outer leaves.
Mix tomato sauce and soup with enough water to make a liquidy consistency.
Pour over rolls until mixture is level with rolls, but not over the top.
Cover casserole dish and bake for 1 hour.
Then reduce temperature to 325° F and bake for 2 more hours.
Let sit 20 to 30 minutes before serving.
This dish freezes well.
Baklava
Submitted by Gretchen O'Bleness in memory of Dina Gouletas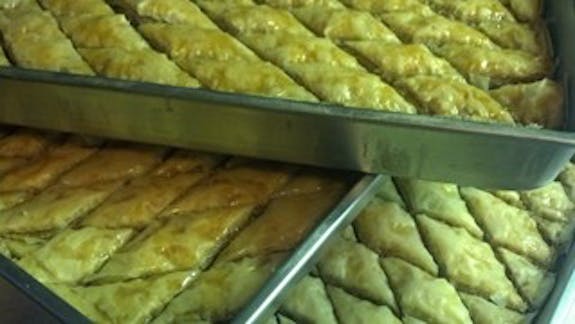 In high school, I had a friend whose father was from Greece. She introduced me to lots of yummy Greek dishes, including Baklava. It's the best. Some people are bold and make their own dough, but I buy Phyllo dough, which can be found in most grocery stores in the frozen food section. The only challenge for this recipe is to find the perfect size pan – 10"x14" cake pan with 2" straight sides.
Tools you will need:
10×14" cake pan (with 2" straight sides)
Food processor to grind up nuts
Pastry brush (I use a nylon brush)
(Optional: toothpicks for spacing)
Ingredients:
Walnuts – finely chopped
½ cup sugar
2 tsp cinnamon
1½ cup butter (3 sticks), melted
1 pkg frozen phyllo dough (16 oz) thawed
1 cup sugar
1 cup water
1 tbsp lemon juice
1 cup honey (net weight 12 oz)
½ tsp vanilla
Directions:
Combine and grind walnuts, 1/2 cup sugar, and cinnamon in a food
Preheat the oven to 300° F.
Melt two sticks of butter in the microwave for 1 minute or less. (Melt the third
stick when you need it.)
Using a pastry brush, lightly brush the bottom and sides of a 10×14" (about
1-2" deep) pan with melted butter.
Layer 8 sheets of phyllo dough (or 1/5 of your phyllo) in the pan, buttering
each layer as you go.
Spread 1 cup of the walnut mixture. Layer 8 more sheets. Repeat 3 more
times!
Layer any extra sheets on top aiming to have an unbroken sheet on the top
Brush the top with the remaining butter.
Going lengthwise, cut 6 (or so) rows, but only cut halfway through the layers.
Cut on a 45 degree angle to get a nice parallelogram! (Note: Unless your pan
is a square, do NOT cut from corner to corner.) This is done before baking
since it will be very fragile after it's been baked. (Pro tip: use toothpicks to
make sure your pieces are the same dimensions.)
Bake 1 hour or until golden brown.
Fifteen minutes before the baklava should be completed, mix 1 cup sugar,
water, and lemon juice in a sauce pan.