Across the country, individuals are banding together to do whatever they can to fight the COVID-19 pandemic, from people sewing and donating cloth face masks to food banks providing millions of meals to those suddenly without income. In this spirit of compassion, Battelle Energy Alliance, which manages Idaho National Laboratory for the U.S. Department of Energy, launched the INL Cares initiative. This community impact program aimed to make a $200,000 investment in our communities.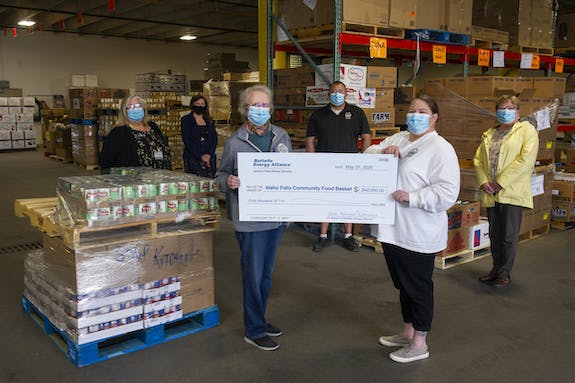 "Community support is vital to our laboratory," said INL Director Mark Peters. "It's always important that we give back, but with the pandemic impacting so many individuals and businesses in eastern Idaho, we wanted to go above and beyond what is normally done."
The mission of INL Cares embraces three vital components to help support the community during this difficult time: economic development, health care education and food insecurity.
For the economic development portion of the initiative, BEA partnered with United Way to provide grants to area small businesses to aid in their recovery from the impacts of the pandemic.
"We recognize that many businesses in our area had to close their doors or make changes to their processes in order to stay open or reopen," said Peters. "We are honored to offer some assistance to these businesses as they work to protect their customers and employees."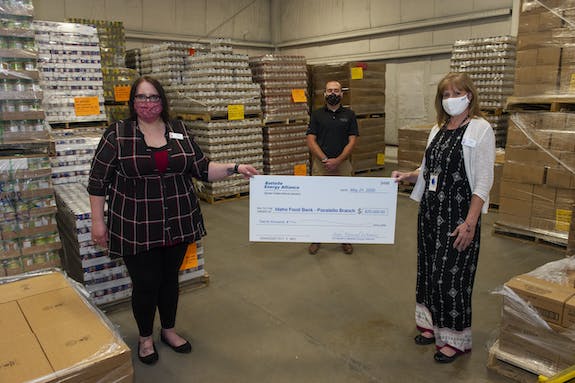 Over 300 businesses applied and 28 received grants ranging from $3,000 to $4,000 each. Altogether, these small businesses in eastern Idaho received a total of $100,000. All the eligible businesses had scaled back operations in some way, e.g., laid off workers, cut hours of operation, or closed due to the pandemic.
"We had a huge range of businesses apply, from all over our region," said Rae Moss, INL director of Communications and Outreach. "We received applications from machine shops, retail businesses, and even a campground. Each of them shared compelling stories of ways they have been affected by the pandemic. We were glad to provide a little help."
In recognition of the impact of the pandemic on schoolchildren, and to promote education and family discussion, BEA teamed up with Crush the Curve Idaho to sponsor a summer essay contest. Crush the Curve Idaho is a collaboration between Idaho businesses and health care organizations to provide testing for COVID-19 active virus and antibodies.
Students from kindergarten through 12th grade submitted essays in one of five categories, based on age. The youngest students, in grades K-3, were asked to write a poem, essay, or song on the topic of washing hands while older students were asked to submit research papers on topics including the spread of COVID-19, COVID-19 testing, and how to battle a pandemic.
"Writing is a great way to help kids better understand COVID-19 and what a pandemic is in an age-appropriate way," said Jennifer Jackson, INL K-12 STEM program manager. "Our hope is that through this essay competition, students would proactively educate themselves about COVID-19 so when they begin to adjust to their new normal at school, they will feel empowered with understanding why these changes are needed and necessary."
The winners in each age category received cash prizes for themselves and their teachers. Almost 200 students submitted entries, with one winner chosen in each of the five categories.
The third portion of the INL Cares initiative focused on meeting a growing need in eastern Idaho, food insecurity.
"In speaking with area food banks and United Way organizations, we learned that food insecurity had increased between 30 and 50 percent across eastern Idaho," said Misty Benjamin, INL community outreach and philanthropy program manager. "Many hardworking families found themselves in need of assistance for the first time. INL leadership determined that a significant donation was needed to meet this emerging challenge."
A $60,000 donation was made to local food banks, with the Idaho Falls Community Food Basket, serving Idaho Falls and the Upper Snake River Valley, receiving $40,000, while the Idaho Food Bank, located in Pocatello, received $20,000 for programs in Blackfoot, Fort Hall, and Bannock County. This donation helped provide grab-and-go meals for students, meal boxes for families and ingredients for the Meals on Wheels program.
"So many people in eastern Idaho are hurting, through absolutely no fault of their own," Peters said. "We are grateful for this opportunity to help our friends and neighbors in need, and to be a part of a generous and caring community."