When it comes to spending with small businesses, Idaho National Laboratory punches well above its weight, says Charles Smith, director of Small and Disadvantaged Business Utilization for the U.S. Department of Energy.
"INL is one of the premier small business performing labs we have," said Smith, who visited the lab the first week of April, talking to everyone from buyers to senior management.
Small business is a big deal to DOE, which is second only to the Defense Department in procurement spending. Behind New Mexico, which has two national laboratories and the Waste Isolation Pilot Plant, Idaho does more with small business than any other state. Because DOE is graded every year by the Small Business Administration, this has become very important to the department, especially since the Consolidated Appropriations Act of 2014. That act authorized DOE to count unclassified first-tier subcontracts awarded by management and operations contractors (such as Battelle Energy Alliance, which operates INL) toward accomplishment of its annual small business goals. "It's the M&O contractors that are driving our prime credit," Smith said.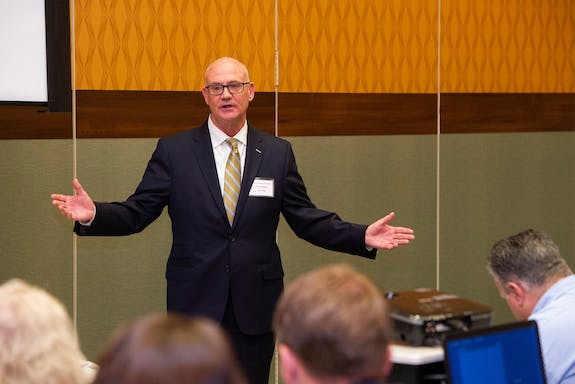 Smith was the keynote speaker at the 30th Annual Idaho Small Business Contracting Symposium April 4 at the Shoshone-Bannock Hotel and Event Center at Fort Hall. Speaking at a "Working with INL" workshop before lunch, he advised a room packed with vendors, engaged and potential, to target their engagement. "It's a very diverse mission that we have," he said. "Find where your strengths best fit."
The good news is that DOE had a 2018 procurement base of $30 billion. From that base, $7.1 billion went to small business and $1.4 billion went to small and disadvantaged businesses. The department has a standing policy that it will meet with any small business. "The tenets apply across the DOE complex," he said.
"We are always looking for businesses that can help support the lab," said Stacey Francis, INL's Small Business Program manager, who also spoke to the group.
This fiscal year, which ends Sept. 30, INL is on track to spend nearly $478 million on goods and services, with $224 million of that targeted for small business. "The mission organizations are hopping," Francis said. "We do have money to spend and we are going to be buying stuff."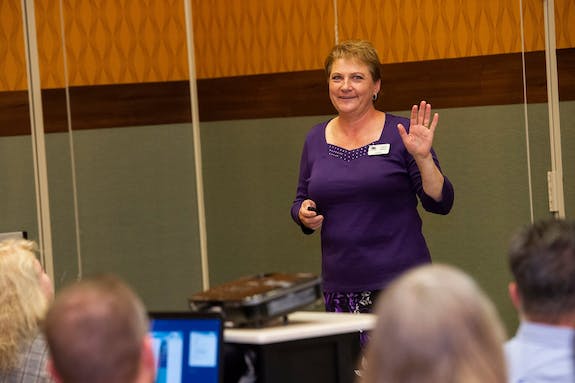 As for meeting small business performance and goals, in FY 2018, INL exceeded its 51% small business spending goal, coming in at 59.1%. This year, with the same 51% goal, it has already done 54.4% of its spending with small business.
Other INL small business goals are trending similarly in FY 2019:
Small disadvantaged business – 5% (goal) / 8.7% (year to date)
Women-owned – 6% (goal) / 14.4% (YTD)
Service-disabled veteran-owned – 3% (goal) / 3% (YTD)
Idaho small business – 30% (goal) / 36.5% (YTD)
INL is looking for the same thing any other buyer might be seeking, i.e., high-quality products, reliable suppliers and fair prices. It is also looking for certain things private sector customers might regard as less important. These include vendors that can help the lab meet purchasing goals for small businesses and socioeconomic factors, also multiple suppliers to ensure that contracts are awarded competitively whenever possible.
Anyone who wants "a piece of the pie" has to meet the following requirements:
A data universal numbering system (DUNS) designation from Dun & Bradstreet
An employer identification number (EIN) from the Internal Revenue Service
Registration in the System for Awards Management (SAM.gov) database
Complete company registration in the INL vendor portal
Forward line card or capability statement to the Small Business office
As for practical advice, any potential vendor needs to have his or her "elevator speech" down pat, Francis said. "Competition is fierce. Show me how you can do it better. What sets you apart?"
And though it might seem like a minor detail, business cards can make a big difference. "Make it scannable," Francis said. "If I can't scan it, it isn't going in my database." Also, it's essential to put basic business information on the back side of the card. "At every conference I'm at, everyone rolls a business card over to see what you do."
With so much business to do, Francis said, she is most focused on advanced acquisition planning. "I want to know what's needed three to six months out," she said. "We ask, 'What are the program needs?' so we can source it before it hits the system."
By Paul Menser for INL Public Affairs and Strategic Initiatives