Just as the sun starts to go down, a group of about 100 people gather at the William J. Maeck Education Center at the Idaho Falls Zoo at Tautphaus Park. They are here for Bat Night, one of the zoo's most unique special programs.  
Most people visit the zoo to see the over 130 animal species found in curated exhibits, but on this night, visitors were there to see wild animals you won't find on the official zoo guide: wild bats.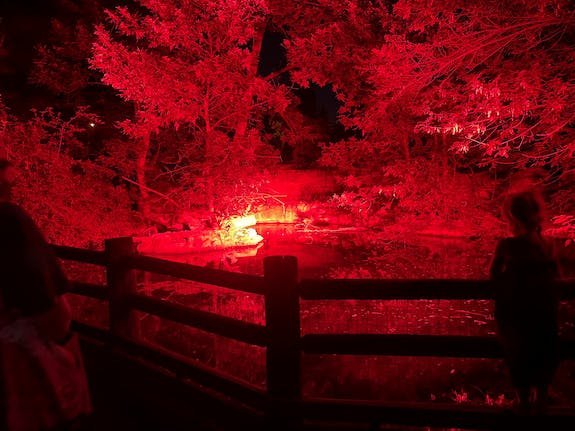 Jericho Whiting, a bat expert and professor at Brigham Young University–Idaho, and a subcontractor for Idaho National Laboratory's Environmental Monitoring and Natural Resources organization, said the habitat created by the zoo has also provided a great habitat for wild bats to hunt and drink water. Using special microphones, he and colleagues from INL can record the echolocation calls and track the number and species of bats in the area.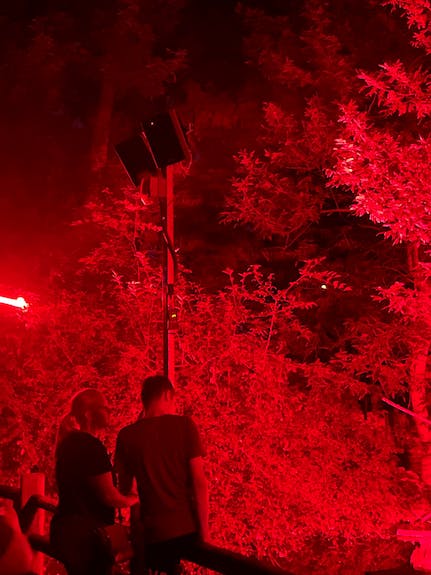 Whiting has been studying bats on the INL Site since about 2011, and he's excited about educating the public about bats and all they do for us and our economy. They not only eliminate unwanted insects for city dwellers, but also provide agriculture with free pest control to the tune of hundreds of millions of dollars.  
Before 2000, human killing of bats was one of the leading causes of population decline. Education efforts have changed that, but the bats have other issues to overcome including habitat loss, hazardous man-made structures and white-nose syndrome. 
White-nose syndrome is a disease caused by a fungus that is killing millions of bats across the country. It is believed to spread in-part by human carriers. Whiting and INL experts say that while it has not been detected among populations on the INL Site, it has been found in Idaho. The devastation caused by white-nose syndrome is serious. Some populations have lost 90%, which can take a colony decades to recover. 
Losses that big could make threatened species endangered and change the legal protections around them and their habitat on federal land. INL already has an extensive Bat Protection Plan in place so that mission critical programs will not be affected if bat listing status changes. 
Bat night events are scheduled to become a regular feature at the Idaho Falls Zoo. David Pennock, Idaho Falls Zoo director, said the zoo is planning to have at least four bat night events next season. The zoo recently received Team INL funding to help purchase and install lighting and special microphones used in the permanent exhibit. To stay up to date on Bat Night and other events at the zoo, visit idahofallsidaho.gov/zoo.