Two women from Idaho National Laboratory are being honored this year as "Accomplished Under 40" by the Idaho Business Review.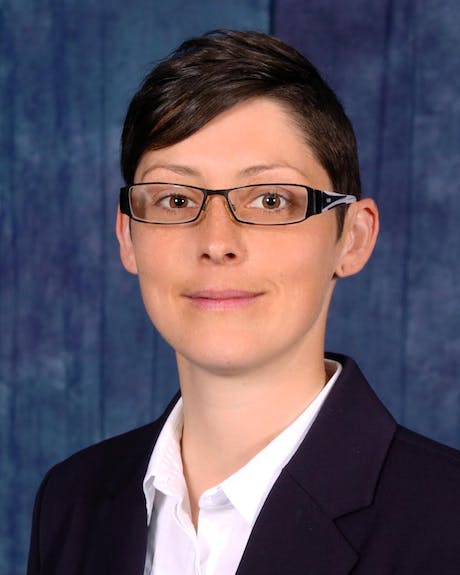 Shannon Havins, identity and access management lead, and Michelle Crane, a program manager in Business Management, both received word in March that they were being honored with 38 other professionals from around the state.
The judges consider nominees based on leadership, professional accomplishments, community support and vision. Winners are profiled in a special annual publication, and a banquet was planned for June 18 at Boise Centre East. The banquet was rescheduled for Sept. 3 and was held virtually.
Havins, 33, knew she had been nominated but was surprised nevertheless to be chosen. "I know there are a lot of phenomenal women in this state," she said.
Her nomination came from Ashley Jo Winters-Glenn, a colleague who'd also nominated her in 2019. "I told her supervisor, Jerry Shurtliff, that I really wanted her to win it this year, and he helped me pull the materials together," she said. That process involves updating the candidate's resume and gathering letters of recommendation.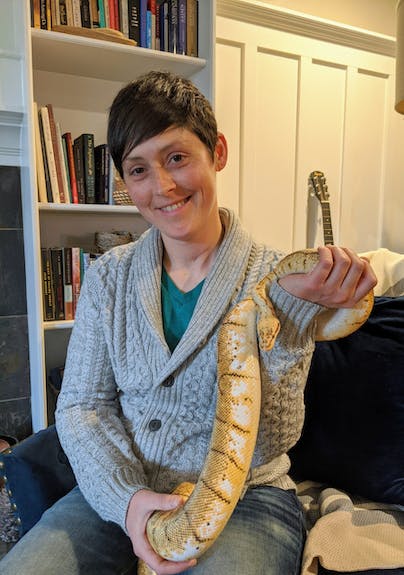 "(Shannon) is ever optimistic, and it is contagious to all those around her," wrote Deanna McKellip, an INL Identity & Access Management administrator. "You can tell she engages and genuinely cares for every person she speaks to. I find she is driven, not only by her desire for the team to succeed, but also to see each member of the team as the individual contributor and person they are."
In the community, Havins is active in animal rights causes. In 2010, she co-founded Caged Critter Coalition Inc., a nontraditional pet rescue. She has coordinated and facilitated the rescue and rehabilitation of hundreds of reptiles, amphibians, small mammals and birds. She presents at local schools to educate the community on the needs of nontraditional pets.
"I just love animals in general, even the ones some people think are icky," she said. "To me, they're all just pets." Havins uses her experience to aid fellow rescuers, including Funny Farm Animal Sanctuary, helping them successfully qualify as 501(c)(3) organizations and Idaho nonprofit.
As a board member of Idaho Falls (IF) Pride, Havins has brought her passion for inclusion and diversity, stemming from experiences in her own life. She has served as director of fundraising, establishing community partnerships and coordinating family friendly events to provide the LGBTQ community with a safe place to be themselves. Most recently, she has initiated an accessibility campaign that includes a quiet tent and free earplugs for individuals with sensory concerns, and making an American Sign Language (ASL) interpreter available.
At INL, she champions inclusion and diversity as a member of PRISM, which promotes inclusion in the workplace and provides resources to LGBTQ employees and allies at INL.
"I think the lab's been great," she said. "[Laboratory Director] Mark Peters himself comes to our meetings. That's really impressive that there is support from that level."
Perhaps the most surprising development in her life is the passion Havins has developed for education, serving on the board of the College of Eastern Idaho Foundation. She quit school at age 16 and got her GED, but in her mid-20s, she enrolled in CEI (which at the time was still Eastern Idaho Technical College). "My experience at CEI gave me the confidence to move forward in my life. I just figured out I loved school and can't stop." With help from INL, she is currently pursuing a doctorate in technology and innovation management.
Recognizing the challenge caused by the COVID-19 pandemic, Havins is still hopeful that the celebratory banquet will take place in Boise. "Awards like this are nice, but what I'm more excited by is the opportunity to network and meet the others who are being recognized."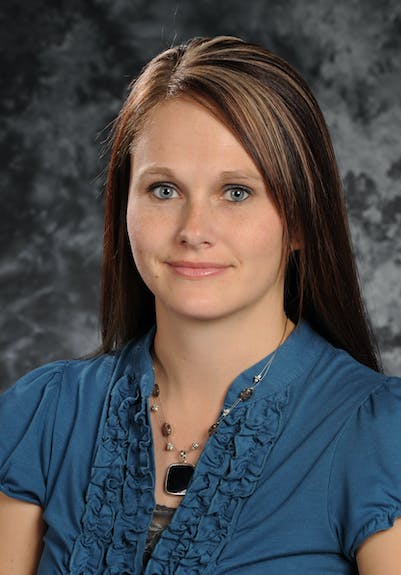 For Crane, 36, the path INL has offered a 10-year adventure. She started as an intern in 2010 while finishing her bachelor's in finance at Idaho State University. While working full time, with support from the lab, she earned an MBA from ISU in 2012. She also took the initiative to earn the Project Management Professional (PMP) credential from the Project Management Institute.
"In a very short number of years, Michelle has become competent in managing complex multimillion-dollar projects, leading large teams of professionals and craftsmen consisting of over 50 individuals," her nomination profile says.
"The support I have gotten from my management team has been integral," she said. "The things I have been able to accomplish have been because of the people who are around me. INL is a fantastic place to work and a fantastic place to grow."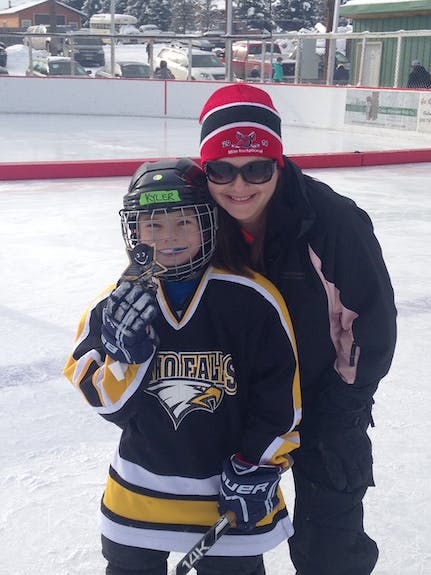 Crane's former manager and mentor, Lannie Workman of the Project Management Office, said he was aware of the "Accomplished Under 40" awards from reading articles about past winners. "I realized I had a perfect candidate in Michelle," he said. "There is not a project on this site I wouldn't be willing to assign her. In project management, you have to be able to build teams to make the project successful."
In the recent past, Crane was a project manager for security projects This role involves interfacing with every INL organization. Crane relished this aspect of the job, because she gets to see the lab in its entirety. "It's more of a reward than a challenge," she said. "As these different missions come in, we are there at the very beginning with the planning. There are strict security requirements you have to recognize while being flexible enough to meet the mission. Every day is different."
An Idaho Falls native and mother of two, Crane devotes a lot of time off the job to athletics. She coached youth soccer teams and does strength and conditioning training for the Idaho Falls Youth Hockey Association. She has done travel management for teams and helped set up and coordinate summer hockey trips to Salt Lake City.
Crane said she was surprised to be named "Accomplished Under 40." Although it's her name on the list, the honor is a shared one.
"If I have one piece of advice for someone starting out at the lab, it's don't wait for a mentor to be assigned to you," she said. "Go get one. Just go get it done."
Workman says he couldn't have found a better person to mentor. "(She) is a person with an exceptional work ethic with genuine personal integrity, and is extremely reliable," he wrote in his letter of recommendation. "I hold my association with Michelle as an honor and am very pleased to recommend her for this award. I truly feel she has earned this recognition."