Since she turns 40 in early August, being named one of the Idaho Business Review's "Accomplished Under 40" honorees was a now-or-never proposition for Heidi Scott.
Scott, the performance management lead in Idaho National Laboratory's Information Management organization, said her nomination was almost an afterthought. At a communications meeting earlier this year they were discussing possible candidates when someone said, "Wait a minute. What about you?
"I said, 'sure.'" When the email announcing she'd won arrived, her first thought was how much of an honor it was to receive such a distinction after only two years at INL. "It's such an amazing community here."
"Accomplished Under 40" winners will be honored June 20 at a banquet in Boise, at the Galaxy Events Center, and in a special Idaho Business Review publication. Scott is one of two people from eastern Idaho to receive the honor this year.
"Heidi is incredibly talented, smart and energetic," said Justin Summers, director of the IM Performance Management group, of which Scott is a member. "There are not enough good words to describe her, but if there is one thing that stands out it is how organized she is and how much she gets done."
Originally from a small town in western Massachusetts, where she grew up in a log house her parents built, Scott says she is always looking to put together a puzzle. Unlike a jigsaw puzzle or a crossword, which you can start and finish, hers is an ongoing project, evolving and interlocked with others.
"As I watch myself and look at those around me, I recognize how thankful I am to have had the opportunity to learn from so many incredible people, places and experiences," she said. "My puzzle is a mosaic of color, words, ideas, similarities, and differences; yet I realize how much I still have to learn."
In his letter of recommendation to the Business Review, Michael Cannon, Scott's direct manager, called her "an empathetic communicator that breaks down barriers and allows difficult initiatives to progress. Her method of engaged listening makes people feel they are being heard."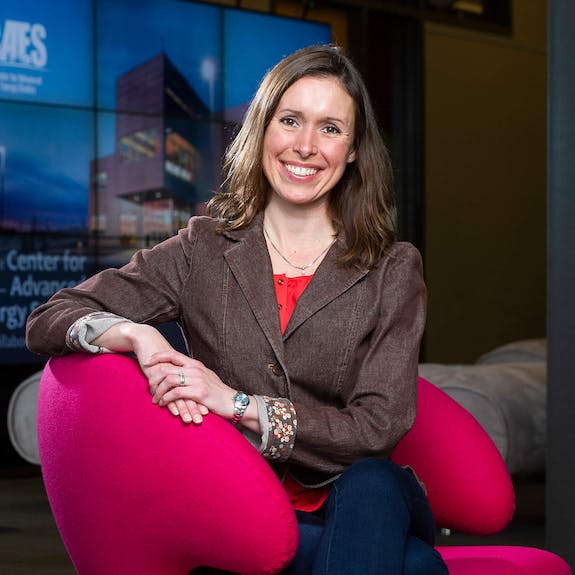 After graduating from high school, where she was class valedictorian, Scott received a scholarship to University of Massachusetts. She started out as a double major in dance and business. For practical reasons, her focus shifted to the latter, and she earned her bachelor's in business administration at UMass' Isenberg School of Management, graduating cum laude as a University Scholar, a member of the Golden Key National Honor and Beta Gamma Sigma Honor societies.
After graduation, she went to work at Hardigg Industries (now Pelican Products), where she started on the production floor counting parts. She audited distribution center cross-functional processes at TJX Companies and planned international "brick" shipments for LEGO. Growing through these roles, she decided to pursue a master's degree through Rensselaer Polytechnic Institute. "The graduate campus in Connecticut allowed me to go back to school, while still working full time," she said. "I recognized I wanted and needed to continue to challenge myself."
Scott's last job before coming to INL in 2017 was with Kenny & Company in Portland, Oregon, as a business and project management consultant for Nike. Aside from the INL job opportunity, Scott and her husband, Terrance, left Portland because they thought eastern Idaho would be a gentler place to raise their 6-year-old son. Also, they love the outdoors, particularly fly-fishing and camping.
Scott is pursuing a Ph.D. in University of Idaho's Adult Organizational Learning and Leadership (AOLL) program. "Being in the INL environment, in our supportive community, with amazing INL educational benefits, and with family support, I found the courage to apply," she said. "I love learning. I think that's a goal I'll continue to have."
An advantage of her doctoral studies is that she gets to apply what she learns every day at work. Scott is particularly focused on authentic leadership and how it affects the well-being of the workplace and the people in it. "I think there are a lot of focused, caring people here that want to do good work," she said. "It's about creating opportunities to help each other."
Since arriving in eastern Idaho, she has immersed herself in the American Association for Adult and Continuing Education, the Society for Human Resource Management, the Henry's Fork Foundation and Trout Unlimited, and the INL Women in Leadership group. She signed on as a first-grade reading volunteer at their local school, and has served INL as a "My Amazing Future" tour guide and a Team STEMazing "Hour of Code" speaker at Temple View Elementary School.
So far this year, Scott has been nominated by INL Senior Leadership Team to participate in INL's new management development program, INL Way and Leadership Immersion. Robert Hillier, INL's chief information officer, chose her to participate in the 2019 Information Technology Leadership Program, providing collaboration across Sandia and Idaho National Laboratory's IT organizations.
The "Accomplished Under 40" application asks nominees to summarize in two sentences what makes them stand out from their peers. Scott offered this answer: "My smile is an earnest demonstration of my love for life and the joy I find in each new day. My smile is how I can convey to others the giving and hope we may find in each other, and with learning, helping, and challenging, we can also be kind, constructive, and human."
View all of the 2019 Idaho Business Review Accomplished Under 40 honorees
Purchase tickets to the June 20 event