Just minutes after hearing record-breaking alpinist Mark Twight's exciting and inspirational speech, members of INL's Protective Force (Pro Force) had the honor of watching one of their own teammates receive a prestigious and well-deserved award.
The Colonel Sydnor Memorial Award recognizes an outstanding participant in the Composite Adversary Team (CAT) program each year. It is given in honor of Colonel Elliott P. (Bud) Sydnor, who was instrumental in establishing the CAT program. This program trains exceptional members of Pro Force teams across the Department of Energy (DOE) nuclear security complex to act as the "bad guys," or attackers, in simulated force-on-force exercises designed to test the strength of each lab's Pro Force and security systems.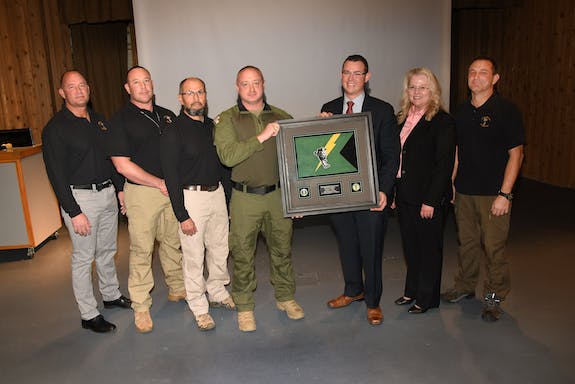 "This award is given to individuals within the CAT program who demonstrate excellence in the areas of character, ability to motivate others, physical fitness, tactical skills, and teamwork," said April Stephenson, deputy director for DOE's Office of Enterprise Assessments, before presenting the award to INL Pro Force Captain Jeremy White.
White is no stranger to the strong effort and motivation required to be a successful team player on the Pro Force. His extensive career in law enforcement included time as a Juvenile Detention Officer and a Deputy officer in adult corrections. In addition to his role as Pro Force captain, White currently serves as the Bingham County Reserve deputy and a member of the Special Tactics and Response (STAR) team, which is a multi-jurisdictional SWAT team comprising Bannock, Bear Lake, Bingham, Caribou, Franklin, Oneida and Power counties.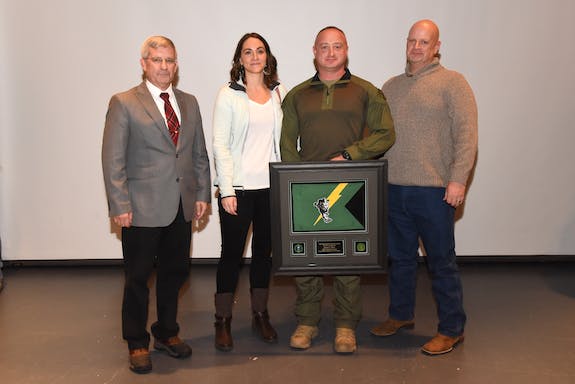 Throughout his early years in law enforcement, White always held on to and eventually fulfilled his dream of joining the INL Pro Force. While accepting the Colonel Sydnor award, he emphasized advice Twight had given the group earlier, stating that his career success was defined by "picking the route I wanted to take and continuing to push forward."
White had to overcome several challenges in his Pro Force career, including suffering a knee injury shortly before his final year in the CAT program. This unfortunate setback forced him to undergo one of the most physically challenging experiences of his life despite not being at his optimal physical capacity.
He is not the first Colonel Sydnor award recipient from INL, and White is confident he won't be the last; a CAT member from Idaho has received the award four out of the six times it has been given. "When I achieved my dream of becoming part of the CAT team, I knew I had to bring the Sydnor back to Idaho," White said as he accepted the award from CAT program and DOE management.
Greg Roberts, the federal DOE-Idaho security officer and Officially Designated Federal Security Officer at INL, offered hearty congratulations to White for his accomplishments. "Having been the CAT Program manager and also having known Colonel Sydnor himself, I appreciate the significance of this accomplishment," Roberts said. "I see it as additional evidence of the great talent we have here in the INL Safeguards & Security directorate."