An Idaho National Laboratory researcher has been named the recipient of the George C. Laurence Pioneering Award by the American Nuclear Society.
Ted Wood, a software analyst with INL's Risk Assessment & Management Services Department, will be recognized for the honor at the ANS 2020 Virtual Winter Meeting, Nov. 16-19. The American Nuclear Society (ANS) is the premier international professional organization for those that embrace the nuclear sciences and technologies for their vital contributions to improving people's lives and preserving the planet.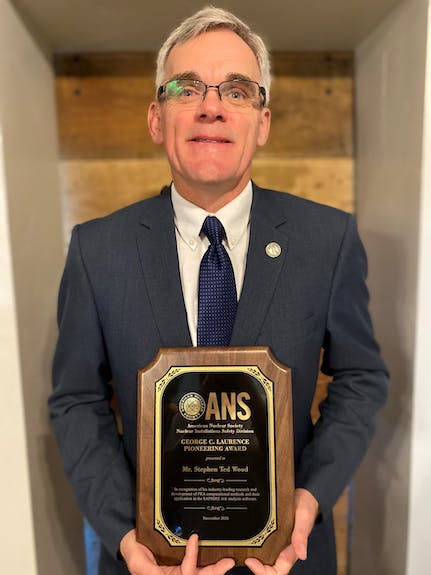 The George C. Laurence Pioneering Award recognizes individuals who have made outstanding pioneering contributions to the field of nuclear reactor safety philosophy. The award was established in 1988 by the ANS' Nuclear Installations Safety Division to honor Dr. George C. Laurence, a pioneer in the Canadian nuclear program and former president of the Atomic Energy Control Board, an integral part of the Canadian nuclear safety regulatory system.
"Over many years, Ted Wood has made outstanding contributions to nuclear reactor safety and risk assessment," said Dr. Marianne Walck, INL deputy laboratory director for Science and Technology and chief research officer. "This recognition by the American Nuclear Society is a testimony to the value of the research and development performed at INL to support the continued contributions of nuclear energy to the global energy mix."
Wood is the software team leader and lead software developer for Systems Analysis Programs for Hands-on Integrated Reliability Evaluations (SAPHIRE) 8 risk software, a program used by government and private industries that analyzes risk in reactors or other complex engineering systems using event tree model and fault tree models.
Wood has been with Idaho National Laboratory for 32 years and has extensive experience in writing software, designing interfaces, web programming and database management. He has experience in debugging software, and programming in Delphi, Pascal, Modula-2, and C languages. He also has designed and updated several websites. He graduated from Brigham Young University with a bachelor's degree in computer science.